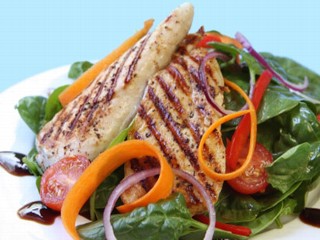 There are so many diets and programs out there, honestly where would you start?
If you do want to go down that track then make sure they teach you HOW TO EAT HEALTHY and you have to learn how to cook it as well.
I don't really understand the whole they cook it for you. What are you suppose to be on it for the rest of your life?
Or when you stop it you're just going to put the weight back on. Hello!
You really don't have to be a rocket science to work it out. Cut out the crap!
Here is what I do:
I follow the 80-20 rule. Be good 80% of the time give yourself a 'Free Day' to eat whatever you want.
*if you want to lose weight then maybe do 95-5
If it's in the house I will eat it in a heart beat until it's gone. SO I don't buy it or I only buy enough for my 'Free Day'
Scheduled Snacks
Are my new thing! It stops me from picking or over eating at meals.
At 10:30am I have a yogurt and a White Tea
(White Tea is my new thing as well- it's exactly like green tea without the caffeine and the yucky taste)
At 2pm I have another White Tea and 2 corn thins with avocado on it, or carrots sticks with my spinach dip (spinach, natural yogurt, spring veg soup mix)it's delish!
Then it's just Breakfast, Lunch and dinner:
Breakfast- It's fruit toast, Vegemite on toast or cereal and always a coffee. If you have time it's the best meal to eat alot like eggs, toast,cereal and fruit. But I'm not a morning person and can't be bothered.
Lunch- I make a big batch of soup (I'm a soup freak!)Lentils, beans, pulses and veges (whatever I have in the fridge) It's hearty so it's filling.
Dinner- No bread, pasta or potatoes. I have sweet potatoes instead. Everything is either steamed, grilled or oven baked. Always with salad or veges. I'm not a salad person so what I do is I roast veges and I let then cool then use them to make a salad.
I try to have a small portion of meat and fill up with veges or salad.
Just on meat: no sausages, chops or fatty meat. I stick with lean steak, fish, lamb and chicken.
I'm happy to exchange recipes so let me know!